THE NATION'S LEADING PUMP & PARTS SUPPLIER!
Taco 009-SF Stainless Steel Circulator Pumps
* Overnight Shipping Available!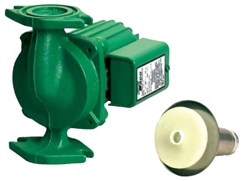 The High Velocity Series Taco 009 Cartridge Circulator is designed for a wide range of residential and light commercial, higher-head/lower-flow water circulating applications.
Available in cast iron or stainless steel constructionstainless steel can be used in higher-head /lower-flow heat recovery, open-loop solar heating and light commercial/domestic water recirculation systems.
Unique, 00 family replaceable cartridge contains all of the moving parts so you can service it easily instead of replacing the entire unit.
Features
Standard High Capacity Output
Compact Design
Quiet, Efficient Operation
Unique Replaceable Cartridge Design Field Serviceable
Direct Drive-Low Power Consumption
Self-Lubricating
No Mechanical Seal
Unmatched Reliability Maintenance Free
Universal Flange-to-Flange Dimensions
Cast Iron or stainless steel Construction
Typical Applications
Hydronic Heating
Radiant In-Floor/Panel Heating
Closed-Loop Solar Heating Systems
Key Features:
Flow Range: 0-8 GPM
Head Range: 0-34 Feet
Minimum Fluid Temperature: 40 F (4 C)
Maximum Fluid Temperature: 230 F (110 C)
Maximum Working Pressure: 125 PSI
Connection Sizes: 3/4
1
1-1/4
1-1/2 Flanged
Questions before buying? Ask the expert about this item. Sorry, do not submit repair related questions.

Contact a pump specialist to assist you in finding the right pump or pump part. Our Factory Authorized pump experts can help you find the best solution and the GUARANTEED LOWEST PRICE !
Call 1-800-298-4100
Mon - Fri : 7AM to 4:30 PM
Saturday : 7AM to 1PM Eastern Standard Time

Copyright ® 2013 Pump Express