THE NATION'S LEADING PUMP & PARTS SUPPLIER!
Bell & Gossett NRF-36 3-Speed Circulator Pumps (103400)
* Overnight Shipping Available!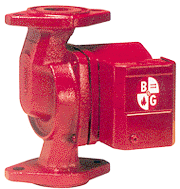 B&G's NRF cast iron circulators are permanently lubricated with a 1/6 HP, 3200 RPM, 115 volt single phase, 3-speed motor. Flanges are available in 3/4" through 1-1/2" IPS.
High starting torque for dependable seasonal start-ups (Up to 80% more than competing circulators)
Unique B&G DuraGlide Bearing System assures years of trouble-free start-ups NRF-22
Closed impeller design improves operating efficiency.
Backed by B&Gs representatives and a 3-year warranty.
DuraGlide Bearing System incorporates several components working together to eliminate seasonal freeze-up.
Stabilized, heat resistant, polypropylene impeller, its closed design improves operating efficiency
Self-cleaning particle shield protects the shaft and bearings from system start-up debris
One-piece, high-nickel stainless steel stator can isolates the stator from system fluid and maintains precision bearing alignment for longer bearing life
Carbon bearings, diamond-like ceramic shaft and generous clearances are more resistant to lime, chloride and oxide build-up
Face plate and rotor sleeve feature corrosion resistant stainless steel construction for longer life Automatic Timer, Aquastat and NRF-VS accessories are available.
APPLICATIONS:
Residential and Light Commercial Heating Systems.
Key Features:
One Piece Design
3-Speed Motor
Self Lubricating
3 Year Warranty
Questions before buying? Ask the expert about this item. Sorry, do not submit repair related questions.

Contact a pump specialist to assist you in finding the right pump or pump part. Our Factory Authorized pump experts can help you find the best solution and the GUARANTEED LOWEST PRICE !
Call 1-800-429-0800
Mon - Fri : 7AM to 4:30 PM
Saturday : 7AM to 1PM Eastern Standard Time

Copyright ® 2013 Pump Express