THE NATION'S LEADING PUMP & PARTS SUPPLIER!
Taco 007-F5 Cast Iron Circulator Pumps
* Overnight Shipping Available!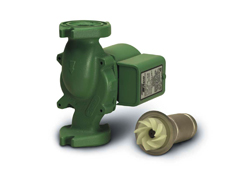 Taco Cast Iron Pumps. Taco Pumps are designed for use in Hydronic and Radiant Heating Systems. The Cast Iron Taco Pumps are the signature green color. They include the IFC Pumps (Taco Pumps with Integral Flow Check). The Taco 007 Cast Iron Pump is our best selling pump. Taco Cast Iron Pumps should be used with the Cast Iron Pump Flanges. These flanges are sold in pairs, come in several different sizes, and should be selected based on the pipe size you are using. Replacement cartridges are made to replace the cartridges for Taco Pumps. These are a good option, however they are expensive relative to the cost of the pump, and often times not as readily available as the pumps themselves. Description for Taco 007-F5 Note: Full flange-to-flange three-year warranty on all 00 Series circulators. Performance Data Flow Range: 0-20 GPM Head Range: 0-11 Feet Minimum Fluid Temperature: 40 degrees F (4 degrees C) Maximum Fluid Temperature, Cast Iron: 240 degrees F (115 degrees C) Maximum Working Pressure: 125 PSI Connection Sizes: 3/4", 1", 1-1/4", 1-1/2" Flanged The Taco 007 Cartridge Circulator is designed for quiet operation in a wide range of applications. Cast iron construction with universal flange-to-flange dimensions. Unique, replaceable cartridge contains all of the moving parts so you can service it easily instead of replacing the entire unit. Features Standard High Capacity Output Compact Design Quiet, Efficient Operation Unique Replaceable Cartridge Design-Field Serviceable Direct Drive-Low Power Consumption Self-Lubricating No Mechanical Seal Unmatched Reliability Maintenance Free Universal Flange-to-Flange Dimensions Cast Iron Construction Typical Applications Hydronic Heating Radiant Heating Hydro-Air Fan Coils Indirect Water Heating Chilled Water Cooling Domestic Water Systems
Key Features:
Flow Range: 0-20 GPM
Head Range: 0-11 Feet
Minimum Fluid Temperature: 40 F (4 C)
Maximum Fluid Temperature
Cast Iron: 240 F (115 C)
Maximum Fluid Temperature
Bronze: 230 F (110 C)
Maximum Working Pressure: 125 PSI
Connection Sizes:
3/4
1
1-1/4
1-1/2 Flanged
Product Availability: OVERNIGHT SHIPPING AVAILABLE ! - PUMP EXPRESS delivers TACO PUMPS and TACO PUMP PARTS 24 hrs a day, 7 days a week, 365 days a year DIRECT FROM THE TACO PUMP MANUFACTURER TO YOUR DOOR
Questions before buying? Ask the expert about this item. Sorry, do not submit repair related questions.

Contact a pump specialist to assist you in finding the right pump or pump part. Our Factory Authorized pump experts can help you find the best solution and the GUARANTEED LOWEST PRICE !
Call 1-800-298-4100
Mon - Fri : 7AM to 4:30 PM
Saturday : 7AM to 1PM Eastern Standard Time

Copyright ® 2013 Pump Express