Taco 003-ST Stainless Steel Circulator Pumps
* Overnight Shipping Available!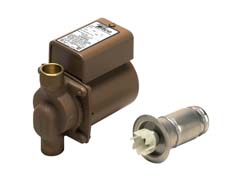 The Taco 003 Cartridge Circulator is designed for circulating hot or chilled fresh water in open or closed loop, lower-flow applications.
Unique, 00 family replaceable cartridge contains all of the moving parts so you can service it easily instead of replacing the entire unit.
Compact design and low power consumption make it ideal for high efficiency jobs.
Reduces Erosion, Corrosion and Flow Noise in Shorter Pipe Run Applications.
Features
Standard High Capacity Output
Unique Replaceable Cartridge Design Field Serviceable
Compact Design
Self-Lubricating
No Mechanical Seal
Unmatched Reliability Maintenance Free
Bronze Construction
Key Features:
Flow Range: 0-6 GPM
Head Range: 0-5 Feet
Minimum Fluid Temperature: 40 F (4 C)
Maximum Fluid Temperature: 220 F (104 C)
Maximum Working Pressure: 125 PSI
Connection Sizes: 1/2
3/4 Sweat
3/4 NPT
Union
Questions before buying? Ask the expert about this item. Sorry, do not submit repair related questions.

Contact a pump specialist to assist you in finding the right pump or pump part. Our Factory Authorized pump experts can help you find the best solution and the GUARANTEED LOWEST PRICE !
Call 1-800-298-4100
Mon - Fri : 7AM to 4:30 PM
Saturday : 7AM to 1PM Eastern Standard Time

Areas We Serve

New Jersey
New York
Connecticut
Nationwide
Subscribe to our newsletter
Pump Express
190 Main Avenue
Wallington NJ 07057
(800) 298-4100
Copyright ® 2013 Pump Express