THE NATION'S LEADING PUMP & PARTS SUPPLIER!
Taco 006-B Cartridge Circulator Pumps
* Overnight Shipping Available!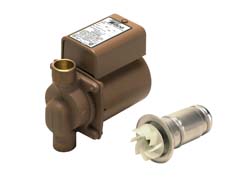 The Taco 006 Cartridge Circulator is designed for circulating hot or chilled fresh water in open or closed -loop, lower-flow applications.
Unique, 00 family replaceable cartridge contains all of the moving parts so you can service it easily instead of replacing the entire unit.
Compact, low-power consumption design is ideal for high efficiency jobs.
Features
Standard High Capacity Output
Quiet, Efficient Operation
Unique Replaceable Cartridge Design Field Serviceable
Direct Drive-Low Power Consumption
Self-Lubricating
No Mechanical Seal
Unmatched Reliability Maintenance Free
Bronze Construction
Typical Applications:
Domestic Hot Water Recirculation
Hydro-Air Heating/Cooling
Heat Recovery Units
Water Source Heat Pumps
Drain Down Open Loop Solar Systems
Potable Water Systems
Key Features:
Flow Range: 0-10 GPM
Head Range: 0-9 Feet
Minimum Fluid Temperature: 40 F (4 C)
Maximum Fluid Temperature: 220 F (104 C)
Maximum Working Pressure: 125 PSI
Connection Sizes: 1/2
3/4 Sweat
3/4 NPT
Union
Questions before buying? Ask the expert about this item. Sorry, do not submit repair related questions.

Contact a pump specialist to assist you in finding the right pump or pump part. Our Factory Authorized pump experts can help you find the best solution and the GUARANTEED LOWEST PRICE !
Call 1-800-298-4100
Mon - Fri : 7AM to 4:30 PM
Saturday : 7AM to 1PM Eastern Standard Time

Copyright ® 2013 Pump Express