Myers S40HT Series-High Temperature Effluent Pump (S40HT)
* Overnight Shipping Available!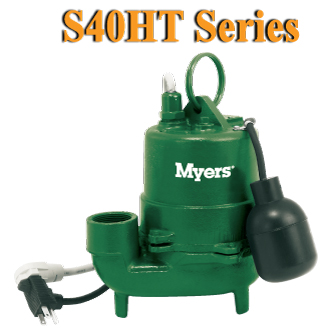 S40HT Series - High Temperature Effluent Pump
Features and Benefits
All cast iron housing, volute case, and impeller resists the most extreme corrosive environments
Rugged-built, oil-filled motor for continuous bearing lubrication and maximum heat dissipation
Heat sensor overload protection with automatic reset when motor cools to a safe operating temperature
Lower ball bearing eliminates sleeve bearing wear and reduces motor wear
Non-clog vortex style, ejector vanes for seal protection
Allows easy disassembly after extended service
Prevents oil loss from - and moisture protection for - motor
Permanently lubricated for long life
Heavy-duty lift-out ring

Key Features:
High Temperature
Automatic
Cast Iron Construction
Questions before buying? Ask the expert about this item. Sorry, do not submit repair related questions.

Contact a pump specialist to assist you in finding the right pump or pump part. Our Factory Authorized pump experts can help you find the best solution and the GUARANTEED LOWEST PRICE !
Call 1-800-298-4100
Mon - Fri : 7AM to 4:30 PM
Saturday : 7AM to 1PM Eastern Standard Time

Areas We Serve

New Jersey
New York
Connecticut
Nationwide
Subscribe to our newsletter
Pump Express
190 Main Avenue
Wallington NJ 07057
(800) 298-4100
Copyright ® 2013 Pump Express