Myers ED33 Series - 1/3 HP Sink Pump System (ED33)
* Overnight Shipping Available!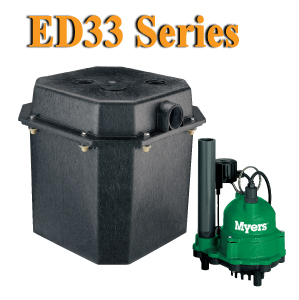 ED33 Series - 1/3 HP Sink Pump System
Features and Benefits
1/3 HP
Pre-packaged sink/pump system is ready for quick application
Basin Features: High-impact engineered resin, exterior hardware and stainless steel construction
1-1/2" (38 mm) NPT discharge
Carbon/ceramic shaft seal
Piggyback-style float for automatic or manual operation
Oil-filled motor with automatic reset overload provides safe operation
Octagonal shape, compact size, 6-gallon useable capacity
Easily replaceable power cord with optional lengths available
Molded reuseable PNC gasket lid seal
Basin dimensions are 15-1/16" W x 13-3/8" H (11-9/16" from floor to center of inlet) sspmaPump only
USED FOR LAUNDRY TRAYS, WET BARS, BEAUTICIAN OR UTILITY SINKS, DEHUMIDIFIER/AIR-CONDITIONING UNITS

Key Features:
Preassembled
115V
Easy Installation
Questions before buying? Ask the expert about this item. Sorry, do not submit repair related questions.

Contact a pump specialist to assist you in finding the right pump or pump part. Our Factory Authorized pump experts can help you find the best solution and the GUARANTEED LOWEST PRICE !
Call 1-800-298-4100
Mon - Fri : 7AM to 4:30 PM
Saturday : 7AM to 1PM Eastern Standard Time

Areas We Serve

New Jersey
New York
Connecticut
Nationwide
Subscribe to our newsletter
Pump Express
190 Main Avenue
Wallington NJ 07057
(800) 298-4100
Copyright ® 2013 Pump Express