Myers ED25 - 1/4 HP Sink Pump System (ED25)
* Overnight Shipping Available!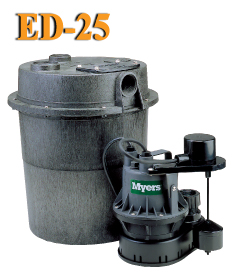 ED-25 - 1/4 HP Sink Pump System
Features and Benefits
Pumps water from laundry trays, washing machines, wet bars, water softeners, dehumidifiers, etc.
Oil-filled for maximum heat dissipation and constant lubrication
Thermal overload protection with automatic reset
Includes discharge pipe inside basin
Installs above floor no need for sump
SPECIALLY DESIGNED FOR MANY HOUSEHOLD JOBS. HIGH-CAPACITY 1/4 HP PUMP. FULLY ASSEMBLED.

Key Features:
Preassembled
115 Volt
Easy Installation
Questions before buying? Ask the expert about this item. Sorry, do not submit repair related questions.

Contact a pump specialist to assist you in finding the right pump or pump part. Our Factory Authorized pump experts can help you find the best solution and the GUARANTEED LOWEST PRICE !
Call 1-800-298-4100
Mon - Fri : 7AM to 4:30 PM
Saturday : 7AM to 1PM Eastern Standard Time

Areas We Serve

New Jersey
New York
Connecticut
Nationwide
Subscribe to our newsletter
Pump Express
190 Main Avenue
Wallington NJ 07057
(800) 298-4100
Copyright ® 2013 Pump Express