Myers MUSP125 - Utility Sink Pump (MUSP125)
* Overnight Shipping Available!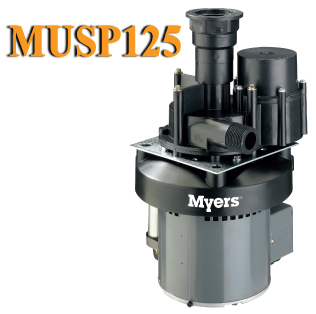 MUSP125 - Utility Sink Pump
QUIET, TROUBLE-FREE OPERATION - EASILY MOUNTS BENEATH YOUR SINK.
Easy to install - eliminates the need for traps, vents and costly labor. Features and Benefits
Designed to be used with a sink where gravity drain line is not available
Fully automatic operation
Complete, compact system
Includes pump assembly, fiber gasket and o-ring, 1" NPT to slip outlet adapter; one-way valve, discharge shut-off/flow balancing valve, strainer cup and 90-degree elbow

IDEAL FOR BASEMENT WET BARS, LAUNDRY AND UTILITY SINKS.

Key Features:
Mounts Directly To Bottom Of Stainer
115 Volt
Easy Installation
Questions before buying? Ask the expert about this item. Sorry, do not submit repair related questions.

Contact a pump specialist to assist you in finding the right pump or pump part. Our Factory Authorized pump experts can help you find the best solution and the GUARANTEED LOWEST PRICE !
Call 1-800-298-4100
Mon - Fri : 7AM to 4:30 PM
Saturday : 7AM to 1PM Eastern Standard Time

Areas We Serve

New Jersey
New York
Connecticut
Nationwide
Subscribe to our newsletter
Pump Express
190 Main Avenue
Wallington NJ 07057
(800) 298-4100
Copyright ® 2013 Pump Express