Myers SPS6 - 1/6 HP Dewatering Utility Pump (SPS6)
* Overnight Shipping Available!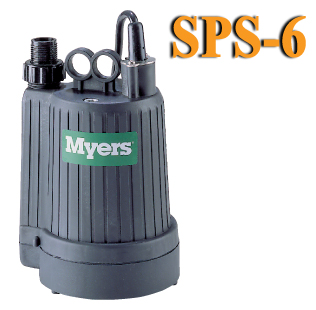 SPS-6 - 1/6 HP Dewatering Utility Pump
Features and Benefits
Removes standing water down to 1/8 depth
Weighs only 7 lbs.
Built-in carrying handle
To operate, just attach a standard hose to pump discharge and plug into any 115V outlet
Provides longer life than similar size dewatering pumps
Efficient PSC motor uses only 2 amps
Air-filled motor housing; no oil required
Full mechanical shaft seal lasts ten times longer than lip seals
Built-in thermal overload protection
Effective and easy to use
IDEAL FOR LIGHT-DUTY DRAINAGE APPLICATIONS: Flooded basements, flat roofs, swimming pool covers; Draining small decorative pools (for repairs, painting).

Key Features:
Thermoplastic Design
115 Volts
Portable
Manual
Questions before buying? Ask the expert about this item. Sorry, do not submit repair related questions.

Contact a pump specialist to assist you in finding the right pump or pump part. Our Factory Authorized pump experts can help you find the best solution and the GUARANTEED LOWEST PRICE !
Call 1-800-298-4100
Mon - Fri : 7AM to 4:30 PM
Saturday : 7AM to 1PM Eastern Standard Time

Areas We Serve

New Jersey
New York
Connecticut
Nationwide
Subscribe to our newsletter
Pump Express
190 Main Avenue
Wallington NJ 07057
(800) 298-4100
Copyright ® 2013 Pump Express