THE NATION'S LEADING PUMP & PARTS SUPPLIER!
Goulds Series ICS & ICSF Open Impeller Pump (ICS ICSF )
* Overnight Shipping Available!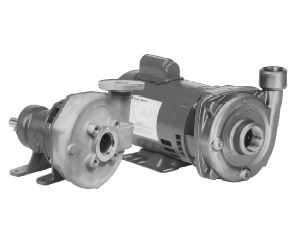 Series ICS & ICSF Open Impeller Pump
Features and Benefits
Superior Materials of Construction: Precision investment cast 316 stainless steel liquid end components for corrosion resistance and strength.
Frame Mounted Design: Flexibility of installation and driver arrangements.
Open Impeller Design: Spherical handling to 3/8" reduces chance of clogging and required maintenance time.
Back Pull-Out Design: Simplifies maintenance by allowing the casing to remain in the piping during disassembly.
Close-Coupled Design: Compact design saves space and simplifies installation.
Casing Features: Investment cast 316 stainless steel construction with NPT threaded suction and discharge, optional drain and vent with stainless steel plugs. Four position discharge orientation.
Mechanical Seals: Standard John Crane Type 21 seal with carbon versus ceramic faces, Viton elastomers and 316 stainless steel metal parts. Optional seals are available for high temperature and mild abrasive services.
Drive Motors: NEMA standard 56J frame motors with rugged ball bearing design for continuous duty. Versions are available in both single and three phase with a variety of enclosures and voltage to match your service requirements.
Applications
Designed for ultra pure water, chemical and general services.
Washer equipment
Ultra pure water systems
Scrubbers
Chemical transfer
Water reclamation and treatment
Beverage processing
Pharmaceutical service

Key Features:
Open Impeller Design
End Suction
Stainless Steel Construction
Questions before buying? Ask the expert about this item. Sorry, do not submit repair related questions.

Contact a pump specialist to assist you in finding the right pump or pump part. Our Factory Authorized pump experts can help you find the best solution and the GUARANTEED LOWEST PRICE !
Call 1-800-298-4100
Mon - Fri : 7AM to 4:30 PM
Saturday : 7AM to 1PM Eastern Standard Time

Copyright ® 2013 Pump Express