Goulds GOULDS - BF03S - Shallow Well Jet Pump (BF03S)
* Overnight Shipping Available!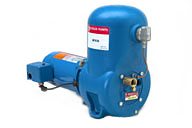 BF03S - Shallow Well Jet Pump
Features and Benefits
Automatically adjusts to the water demand within the pumps capacity. When one faucet is in use, theres no change in the water flow when a second outlet is opened.
Can be easily installed in locations where other larger pumps are difficult to install.
Self-contained water system, no separate tank required.
Exclusive air handling abiliby. After initial prime, pump never needs priming again even if the water level drops below the end of the suction pipe.
Applications
Small homes
Camps
Mobile Homes

Key Features:
Adjusts For Demand
Single Phase
Cast Iron Construction
Product Availability: OVERNIGHT SHIPPING AVAILABLE ! - PUMP EXPRESS delivers GOULDS PUMPS and GOULDS PUMP PARTS 24 hrs a day, 7 days a week, 365 days a year DIRECT FROM THE GOULDS PUMP MANUFACTURER TO YOUR DOOR.
Questions before buying? Ask the expert about this item. Sorry, do not submit repair related questions.

Contact a pump specialist to assist you in finding the right pump or pump part. Our Factory Authorized pump experts can help you find the best solution and the GUARANTEED LOWEST PRICE !
Call 1-800-298-4100
Mon - Fri : 7AM to 4:30 PM
Saturday : 7AM to 1PM Eastern Standard Time

Areas We Serve

New Jersey
New York
Connecticut
Nationwide
Subscribe to our newsletter
Pump Express
190 Main Avenue
Wallington NJ 07057
(800) 298-4100
Copyright ® 2013 Pump Express