THE NATION'S LEADING PUMP & PARTS SUPPLIER!
Blue Angel SBS100 - 1 HP Cast-Iron Shallow Well Jet Pump
* Overnight Shipping Available!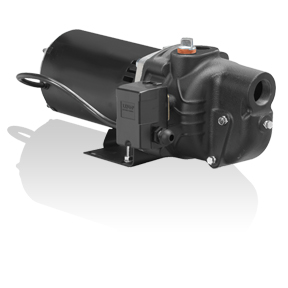 SBS100 - 1 HP Cast-Iron Shallow Well Jet Pump
* 9.3 GPM @ 5 (50 PSI)
* Durable Cast-Iron Volute
* Corrosion-Resistant, Reinforced Thermoplastic Impeller and Diffuser
* High-Efficiency Square Flange Motor is Thermally Protected to Prevent Overheating and Universally Available if Replacement is Ever Required
* Pressure Switch Pre-set at 30-50 PSI for Automatic Operation When Used with Water System Tank
* Dual Voltage (120/240), Factory Wired for 120-Volts
* Dedicated Priming Port for Convenient Volute Filling
* Brass Wear Ring
* 3/4" NPT Discharge
* 1 - 1/4" NPT Suction
* 0 - 25 Well Depth
* Shipping Weight, 42 lbs

Key Features:
Shallow Well Pump
Cast Iron Construction
Product Availability: OVERNIGHT SHIPPING AVAILABLE ! - PUMP EXPRESS delivers BLUE ANGEL PUMPS AND PUMP PARTS 24 hrs a day, 7 days a week, 365 days a year DIRECT FROM THE BLUE ANGEL PUMP MANUFACTURER TO YOUR DOOR.
Questions before buying? Ask the expert about this item. Sorry, do not submit repair related questions.

Contact a pump specialist to assist you in finding the right pump or pump part. Our Factory Authorized pump experts can help you find the best solution and the GUARANTEED LOWEST PRICE !
Call 1-800-429-0800
Mon - Fri : 7AM to 4:30 PM
Saturday : 7AM to 1PM Eastern Standard Time

Copyright ® 2013 Pump Express