THE NATION'S LEADING PUMP & PARTS SUPPLIER!
Blue Angel ODS20 - 1/2 HP Oil Detection System
* Overnight Shipping Available!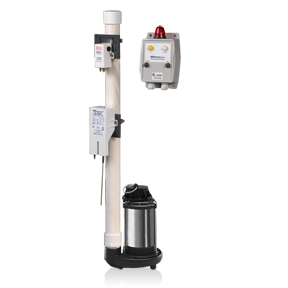 ODS20 - 1/2 HP Oil Detection System
For Elevator Sump Pumps
The Oil Detective is designed to detect and alert of the presence of oil in various applications. The Switch is designed to adjust the on and off points to help prevent pumping oil into disposal systems. The alarm will alert of oil presence or high water conditions. The Oil Detective will monitor, watch and control the application the detective is always on duty.
* 65 GPM @ 5
* System Includes: Pump Controller, Audible Alarms With Test and Silence Switch, Visual Display Lights, Preset On and Off Points, 20 Piggy-Back Switch Cord, UL508 Approved Switch
* Typical Applications: Hydraulic Elevator Sumps, Transformer Vaults, Garages, Anywhere Oil Needs To Be Detected To Comply with ASME 17.1 and Other Building Codes.
* Durable Cast-Iron Volute, Stainless Steel Motor and Top Suction Design
* Top Suction Design Filters Debris and Minimizes Clogging
* Poly-Carbonate Impeller
* Oil-Filled, Thermally Protected Motor Prevents Overheating
* 20, SJTW Power Cord
* Shipping Weight, 28 lbs

Key Features:
Oil Detection Equipment
Pump Water Not Oil
Complete Package
Questions before buying? Ask the expert about this item. Sorry, do not submit repair related questions.

Contact a pump specialist to assist you in finding the right pump or pump part. Our Factory Authorized pump experts can help you find the best solution and the GUARANTEED LOWEST PRICE !
Call 1-800-298-4100
Mon - Fri : 7AM to 4:30 PM
Saturday : 7AM to 1PM Eastern Standard Time

Copyright ® 2013 Pump Express