THE NATION'S LEADING PUMP & PARTS SUPPLIER!
Blue Angel 6303*-BLA1 - Preassembled Grinder Pump System
* Overnight Shipping Available!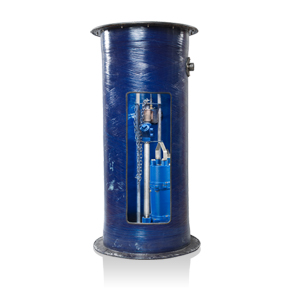 63037-BLA1 - 2 HP Preassembled and Job-Ready Grinder Package System
For residential and light commercial applications. Engineered and assembled simplex grinder package with the 2 HP BEAST grinder pump. Includes guide rail, discharge piping, lifting chain, pull rod, ball check valve, gate valve, and float switch. Saves time on the job site and reduces installation issues.
BAGP1-2021 PUMP FEATURES
* Internal Capacitors - No Control Panel Reqd
* Triple Seal Non-Wicking Cord Design
* Grit-Resistant, Silicon Carbide Seal and For Added Protection Secondary Lip Seal
* Stainless Steel Cutler Assembly Effectively Grinds Domestic Sewage Into a Fine Slurry
* Heavy-Duty Upper and Lower Ball Bearings
* Hardened 440c Stainless Steel (56-60 Rockwell C) Shredding Ring and Grinding Impeller - 8300 Cuts Per Second - 1/2 Million Cuts Per Minute
* Oil-Filled For Consistant Bearing Lubrication and Maximum Motor Cooling
* Single Phase, 230 Volts, 14.5 Amps
* Dual Shaft Seal - Full Mechanical Seal (Silicon/Carbide) and Secondary Lip Seal
ALARM FEATURES
* Type 3R Water Tight Enclosure
* High Water Alarm with Light
* High Water Float Switch
* UL Listed for Indoor or Outdoor Applications
* Pre-Mounted Terminal Block For Up To 20 Amp Pump
BASIN AND RAIL FEATURES
* 24" x 48" Fiberglass Basin with Fiberglass Anti-Floatation Device
* Solid Fiberglass Lid
* Stainless Steel Rail System with Brass Disconnect
* Cast-Iron Ball Check Valve
* Schedule 80 1-1/4 Discharge Piping Out the Side Wall of Basin (24 Below Cover)
* Brass Gate Valve
* Stainless Steel Lifting Chain
* 4 Inlet Hub and 2 Electrical Hub Supplied Loose for Field Installation

Key Features:
Assorted Basin Depths
Single Phase Only
Turn-Key
Questions before buying? Ask the expert about this item. Sorry, do not submit repair related questions.

Contact a pump specialist to assist you in finding the right pump or pump part. Our Factory Authorized pump experts can help you find the best solution and the GUARANTEED LOWEST PRICE !
Call 1-800-298-4100
Mon - Fri : 7AM to 4:30 PM
Saturday : 7AM to 1PM Eastern Standard Time

Copyright ® 2013 Pump Express