Blue Angel EC50 - 1/2 HP Cast-Iron Transfer Utility Pump
* Overnight Shipping Available!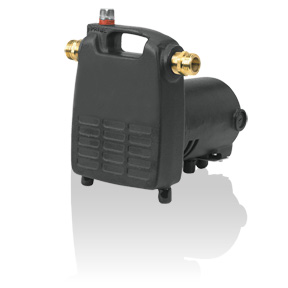 EC50 - 1/2 HP Cast-Iron Transfer Utility Pump * 610 GPH @ 0 (40 PSI)
* Boosts Line Pressure Up to 40 PSI
* Corrosion-Resistant Cast-Iron Pump Housing and Motor for Durability
* Removes Water Down to 1/8" of Surface When Water Suction Strainer is Connected
* Portable and Lightweight Transfer Pump You Can Take Anywhere
* 3/4" Brass Hose Adapters
* Applications Include Drainage, Dewatering Flooded Basements, Emptying Stock Tanks, Draining Water Heaters, And Charging Polyglycol Radiant Heating Lines, etc.
* 8 SJTW Power Cord
* Non-Automatic
* Suction Head Up To 15
* Shipping Weight, 14 lbs.

Key Features:
Cast Iron Design
Heavy Duty Design
115V
Great For Emptying Hot Water Heaters
Questions before buying? Ask the expert about this item. Sorry, do not submit repair related questions.

Contact a pump specialist to assist you in finding the right pump or pump part. Our Factory Authorized pump experts can help you find the best solution and the GUARANTEED LOWEST PRICE !
Call 1-800-298-4100
Mon - Fri : 7AM to 4:30 PM
Saturday : 7AM to 1PM Eastern Standard Time

Areas We Serve

New Jersey
New York
Connecticut
Nationwide
Subscribe to our newsletter
Pump Express
190 Main Avenue
Wallington NJ 07057
(800) 298-4100
Copyright ® 2013 Pump Express