Bell & Gossett Series VTP Vert Turbine Non-Submersible Pumps
* Overnight Shipping Available!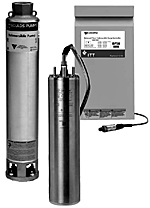 Series VTP Vertical Turbine Non-Submersible Pumps
Multi-stage Vertical Turbine Pumps with bronze impellers and cast iron bowls. The lineshaft turbine pumps have above-ground discharge with water-lubricated lineshaft bearings. The column pipe coupling has bronze centering spiders with fluted-rubber lineshaft bearings. The bowls are vitra-glass coated in the waterways for improvedefficiencies. Capacities up to 10,000 GPM with heads to 150 feet per stage.
APPLICATIONS:
COOLING TOWERS, PRESSURE BOOSTING AND GENERAL WATER SERVICE.
Key Features:
Non-Submersible
Various HP Options
Questions before buying? Ask the expert about this item. Sorry, do not submit repair related questions.

Contact a pump specialist to assist you in finding the right pump or pump part. Our Factory Authorized pump experts can help you find the best solution and the GUARANTEED LOWEST PRICE !
Call 1-800-298-4100
Mon - Fri : 7AM to 4:30 PM
Saturday : 7AM to 1PM Eastern Standard Time

Areas We Serve

New Jersey
New York
Connecticut
Nationwide
Subscribe to our newsletter
Pump Express
190 Main Avenue
Wallington NJ 07057
(800) 298-4100
Copyright ® 2013 Pump Express