THE NATION'S LEADING PUMP & PARTS SUPPLIER!
Bell & Gossett Series HSC-3 Centrifugal Pumps
* Overnight Shipping Available!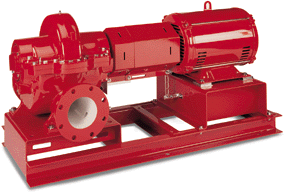 Series HSC
Double-suction, base-mounted Series HSC pumps are available in 2 through 10 sizes. Motor sizes through 300 HP. Flows to 6500 GPM and heads to 400 feet. Bronze-fitted construction with a maximum working pressure of 175 psig.
The HSC features internally self-flushing mechanical seals for maximum lubrication, debris removal and heat dissipation. The internally flushed seals allow for a shorter shaft for reduced deflection for longer seallife. Closed-end steel baseplate with full seam welds for strength and an open top for easy grouting. The pump bearings and mechanical seals can be serviced without disturbing the upper casing half, piping connections or electrical motor connections. An ANSI-OSHA-compliant coupling guard shields the flexible coupler.
APPLICATIONS:
HYDRONIC HEATING AND COOLING SYSTEMS, GENERAL SERVICE AND INDUSTRIAL.
Key Features:
Sizes Up To 300 HP
Horizontal Split Case
Bronze Fitted
Frame Mounted
Product Availability: When you need it Today ! - OVERNIGHT SHIPPING AVAILABLE - Pump Express delivers Bell & Gossett pumps and pump parts to your door ! We have B&G and hard to find replacement parts for sale. You will pay less by ordering direct from our Bell & Gossett distribution warehouse, eliminating the middleman in the supply chain. For help selecting the right B&G pump and pump replacement parts speak with one of our Bell & Gossett pump representitives today ! Call Toll Free - 1-800-298-4100.
Questions before buying? Ask the expert about this item. Sorry, do not submit repair related questions.

Contact a pump specialist to assist you in finding the right pump or pump part. Our Factory Authorized pump experts can help you find the best solution and the GUARANTEED LOWEST PRICE !
Call 1-800-298-4100
Mon - Fri : 7AM to 4:30 PM
Saturday : 7AM to 1PM Eastern Standard Time

Copyright ® 2013 Pump Express