THE NATION'S LEADING PUMP & PARTS SUPPLIER!
Bell & Gossett Series VSX Double Suction Split Case Pumps
* Overnight Shipping Available!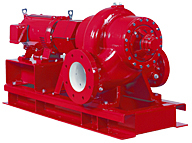 VSX Double-Suction Split-Case Pump
At Bell & Gossett, we have over 88 years of experience in designing pumps. New VSX Double-Suction Split-Case Pump has Maintenance-Free Bearings, new One-Piece Unitized Seal, Groutless Base Plate, Alignment-Friendly Coupling, reduced pump room footprint by up to 40% when compared to traditional split-case and vertical inline pumps. Read more in: Product Bulletin, Technical Bulletin. Pump is available in 25 sizes!
Hydraulic coverage to meet all your design requirements
Flows from 500 to 28,000 GPM/114 to 6400 m3/h
Heads from 30 to 530 feet/9 to 161 meters
Working pressures of 175 and 300 psig/12 and 20 Bar
ANSI flange ratings of 125# and 250#
Temperature 0 to 300F/-17 to 148C
Materials of construction
Volute & Cover Plates: Cast iron ASTM A159 (35,000 psi)*
Impeller: Low Zinc Silicon Bronze ASTM 876
Shaft: 416 Stainless Steel
Sleeve: 304 Stainless Steel
Simply select your hydraulic requirements and then pick any one of three different suction and discharge flange orientations that best suit your installation requirements.
Using CFD technology, we can deliver identical performance in any flange configuration. The result is that you can maximize your piping possibilities and meet a broad hydraulic range for chillers, towers, distributive and general pumping requirements.
Applications:
Commercial.
* 12x14x22, 14x16x22, 16x18x19, 18x20x22 are ASTM A536 ductile iron - standard.
Key Features:
25 Sizes Available
Selectable Suction & Discharge Orientations
Reduced Pump Foot Print
Product Availability: OVERNIGHT SHIPPING AVAILABLE ! - PUMP EXPRESS delivers BELL & GOSSETT PUMPS and BELL & GOSSETT PUMP PARTS 24 hrs a day, 7 days a week, 365 days a year DIRECT FROM THE BELL & GOSSETT PUMP MANUFACTURER TO YOUR DOOR.
Questions before buying? Ask the expert about this item. Sorry, do not submit repair related questions.

Contact a pump specialist to assist you in finding the right pump or pump part. Our Factory Authorized pump experts can help you find the best solution and the GUARANTEED LOWEST PRICE !
Call 1-800-298-4100
Mon - Fri : 7AM to 4:30 PM
Saturday : 7AM to 1PM Eastern Standard Time

Copyright ® 2013 Pump Express