THE NATION'S LEADING PUMP & PARTS SUPPLIER!
Grundfos Redi-Flo2 Series Stainless Steel Sampling Pumps
* Overnight Shipping Available!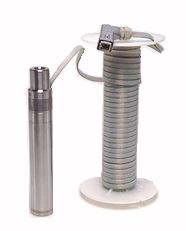 Redi-Flo2 - The Complete Purge & Sample System
The Redi-Flo2 Variable Performance Pump combines state-of-the-art technology into a light, compact and yet powerful submersible pump for precise, accurate, and reproducible groundwater purging and sampling.
Features:
* 2 inches in diameter to fit the smallest wells
* Made of chemically inert materials ensuring no contaminants during sampling
* Smooth, uninterrupted flow allows for a cleaner and more accurate sample
* Portable and "dedicated" installation options for maximum versatility and widespread application use

Key Features:
2" Diameter
Stainless Steel Construction
Sampling Pump
Questions before buying? Ask the expert about this item. Sorry, do not submit repair related questions.

Contact a pump specialist to assist you in finding the right pump or pump part. Our Factory Authorized pump experts can help you find the best solution and the GUARANTEED LOWEST PRICE !
Call 1-800-298-4100
Mon - Fri : 7AM to 4:30 PM
Saturday : 7AM to 1PM Eastern Standard Time

Copyright ® 2013 Pump Express