THE NATION'S LEADING PUMP & PARTS SUPPLIER!
Grundfos SQ & SQE Series Submersible Ground Water Pumps
* Overnight Shipping Available!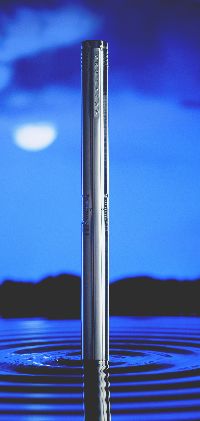 SQ and SQE Series
Grundfos Pumps The world leader in pump technology Is pleased to introduce the revolutionary SQ and SQE Series pumps The beginning of the pump revolution starts today.
Grundfos has broken the mold to design a radically new submersible pump that will bring about a whole new era in pumping equipment. Grundfos is proud to introduce the new SQ Series of submersible pumps.
The SQ pump series was designed for the professional dealer. These pumps incorporate many protection and applications features giving dealers confidence in their installation with the flexibility to adapt the pump to many different applications. There are two models of the SQ Series of pumps: the standard SQ and the advanced SQE. Both models offer five flow sizes from 5 to 30 gpm and a horsepower range of 1/3 to 1.5 Hp.
Both the SQ and SQE incorporate the following common features:
* Dry-run protection
* High efficiency pump and motor
* Protection against up-thrust
* Soft-start
* Over-voltage and under-voltage protection
* Overload protection
* Over-temperature protection
* High starting torque
Additionally benefits of SQE pumps with SmartFlo:
o Constant pressure control
o Variable speed regulation
o Electronic control and communication

Key Features:
Submersible Ground Water Pump
Multiple Horsepower Configurations
Constant & Variable Pressure Control
Stainless Steel Construction
Questions before buying? Ask the expert about this item. Sorry, do not submit repair related questions.

Contact a pump specialist to assist you in finding the right pump or pump part. Our Factory Authorized pump experts can help you find the best solution and the GUARANTEED LOWEST PRICE !
Call 1-800-298-4100
Mon - Fri : 7AM to 4:30 PM
Saturday : 7AM to 1PM Eastern Standard Time

Copyright ® 2013 Pump Express