THE NATION'S LEADING PUMP & PARTS SUPPLIER!
Grundfos BoosterPaq Series Pump Skids
* Overnight Shipping Available!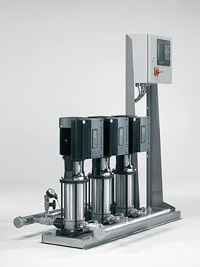 BoosterpaQ High-Pressure Booster Systems
Efficient & Flexible Pressure Boosting
Efficiency and flexibility describe the new Grundfos BoosterpaQ. Seven models provide a comprehensive range designed to meet dynamic capacity requirements and maximize efficiency. All BoosterpaQ systems are assembled and tested by Grundfos and ready for operation.
Building and Municipal Water Supply
# Pressure boosting systems for multi-story buildings, hotels, apartments, camping sites, schools and other institutions
# Mains water supply systems for waterworks and distribution networks
Industry
# Water supply systems for the food industry, such as: poultry and beef processing, breweries, dairies, feed lots, etc.
# Water treatment plants
# Systems for the petrochemical industry, pharmaceutical and metal industries where water and pressure boosting plays an important part in processes
# Recreation: water parks, theme parks, fountains, etc.
Irrigation
# Commercial landscaping
# Parks and other recreational areas
# Sports arenas, golf courses
# Agricultural

Key Features:
Pump Skid Pack
VFD Drive Options
Water Booster
Stainless Steel Construction
Turn-Key Packages Available
Stainless Steel Header
Questions before buying? Ask the expert about this item. Sorry, do not submit repair related questions.

Contact a pump specialist to assist you in finding the right pump or pump part. Our Factory Authorized pump experts can help you find the best solution and the GUARANTEED LOWEST PRICE !
Call 1-800-298-4100
Mon - Fri : 7AM to 4:30 PM
Saturday : 7AM to 1PM Eastern Standard Time

Copyright ® 2013 Pump Express