THE NATION'S LEADING PUMP & PARTS SUPPLIER!
Grundfos TPE & LME E Series Circulator Pumps
* Overnight Shipping Available!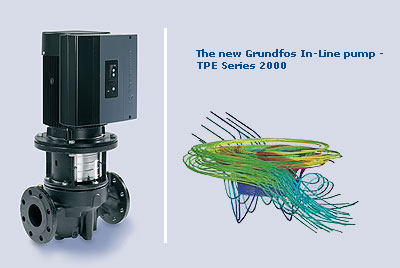 Grundfos E-Circulators TPE and LME
Grundfos is one of the worlds leading suppliers of pump technology, and therefore has a major influence on the levels of manufacturing standards and operating efficiency that can be achieved with pumps.These provide customers with efficient, reliable solutions throughout the entire spectrum of heating and air-conditioning systems, and in the transfer of fluids used in industrial processes.
Reliability and efficiency
Grundfos solutions meet and often surpass virtually all customer requirements in this field, from pumps and pump configurations that extend over the entire size range, to the control systems and software. These are backed by the Grundfos service and support essential for peak reliability and efficiency.
The energy difference
Energy costs represent a major component of an in-line pumps Life Cycle Costs. The Grundfos E-Circulator provides the best possible opportunities for implementing electronic speed control, which keeps the energy consumption of TP pumps to an absolute minimum.
The kind of key technical improvements that are only available from a company like Grundfos, with a specialist staff of 450 people working solely on R&D and product development, means reliability and efficiency that set new standards for in-line pumps.
Key Features:
Energy Efficient
Variable Frequency Drive Equipped
Questions before buying? Ask the expert about this item. Sorry, do not submit repair related questions.

Contact a pump specialist to assist you in finding the right pump or pump part. Our Factory Authorized pump experts can help you find the best solution and the GUARANTEED LOWEST PRICE !
Call 1-800-298-4100
Mon - Fri : 7AM to 4:30 PM
Saturday : 7AM to 1PM Eastern Standard Time

Copyright ® 2013 Pump Express