THE NATION'S LEADING PUMP & PARTS SUPPLIER!
Hartell LTP & LTS Series Pumps (801284)
* Overnight Shipping Available!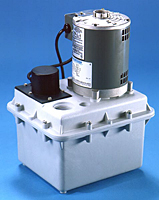 LTP/LTS Series Pumps
LTS medium temp, high capacity reservoir pump Heavy duty pump designed for moving large quantities of water. Used in commercial and industrial air-conditioning systems, large refrigeration units, and multiple unit installations to tie several drains into one disposal pump.
LTP medium capacity reservoir pump Designed for laundry and wet bar applications. Primarily used where the sink or appliance is installed below the plumbing drain.
Suds proof reservoir
Unitized construction
Structural foam polypropylene
Fits under utility sinks reservoir
No main stack vent connection
Simple installation saves time
8 cord and plug
Sealed switch assembly
Fits inside 24" base cabinets
Allows sink installation without breaking concrete
* NSPC section 11.7.9, check local codes

Key Features:
Easy Installation
Suds Proof
Fits Under Sinks
Heavy Duty
Q:
I would like to use an LTS pump in a basement wet bar application. Two questions regarding this installation. 1) the Hartell instructions show the vent line routed back to a laundry tub so that "soap foam" will dump into the sink. Since I'm not using it for a laundry application, can I just run a vent tube up to the underside of the counter and use an AAV? 2) will this pump handle the discharge from a dishwasher? I would plumb the dishwasher discharge into a tailpiece ahead of the sink trap, just as in a standard installation. Thanks!
by
Don Masch
from MI on April 05,2013
A:
Don,
You can absolutely use an Air Admittance Valve on the pump vent in your application since there will be a minimal amount of soap being discharged into the unit. As for discharging a dishwasher into the unit, I do not see that being a problem as long as your discharge does not exceed 7 gpm. Let me know if you need anything else.
Thanks Fred.

Contact a pump specialist to assist you in finding the right pump or pump part. Our Factory Authorized pump experts can help you find the best solution and the GUARANTEED LOWEST PRICE !
Call 1-800-429-0800
Mon - Fri : 7AM to 4:30 PM
Saturday : 7AM to 1PM Eastern Standard Time

Copyright ® 2013 Pump Express