Hartell A-3 / A-5 Series Pumps (806029)
* Overnight Shipping Available!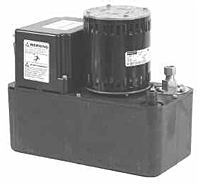 A3/A5 Series Pumps
UL Component Recognized
Rated for use with steam condensate
Fully automatic operation
Available voltages:
A3 - 115, 208/230, 277
A5 - 115, 208/230, 380/460
Discharge connections
A3 - 3/8 inch copper compression connection
A5 - 1/2 inch copper compression connection
Heavy duty construction for commercial applications
Reversible reservoir allows installation flexibility
Built in check valve, easily disassembles for cleaning
Quick disconnect discharge feature for easy servicing
Motor bearings have double protection against water splash and steam vapor
Auxiliary safety switch included on all models
Stainless steel shaft for corrosion resistance
Die cast aluminum impeller
Heavy duty threaded impeller attachment
3 lead wires and conduit conversion standard
Inlet and discharge rotate to reduce strain on tubing and piping
Standard low level inlet barbed tubing connection (requires site modification)

Key Features:
Full Automatic
Single Phase
Three Phase
Heavy Duty
Questions before buying? Ask the expert about this item. Sorry, do not submit repair related questions.

Contact a pump specialist to assist you in finding the right pump or pump part. Our Factory Authorized pump experts can help you find the best solution and the GUARANTEED LOWEST PRICE !
Call 1-800-429-0800
Mon - Fri : 7AM to 4:30 PM
Saturday : 7AM to 1PM Eastern Standard Time

Areas We Serve

New Jersey
New York
Connecticut
Nationwide
Subscribe to our newsletter
Pump Express
190 Main Avenue
Wallington NJ 07057
(800) 429-0800
Copyright ® 2013 Pump Express