Hartell KL-20 Series Pumps (801054)
* Overnight Shipping Available!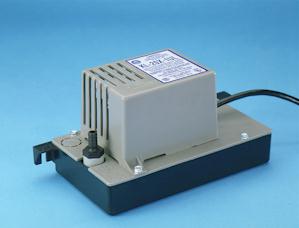 KL-20 Series Pumps
When a low profile pump is required, the KL-20 is the pump of choice. The KL-20 has a high impact, corrosion resistant, ABS plastic, slim line reservoir with built in check valve. PAB3 Series Pumps The PAB is the ideal pump for applications requiring higher lift and greater capacity. The PAB3 has an integral full-flow check valve and a high torque motor.
ABS plastic slim line reservoir; inlet 1-3/4 high
Thermally protected 115 or 230 VAC 3,000 rpm motor with 300 series stainless steel shaft
2 Inlets (1 & 1-3/8"), height 1-3/4" ideal for gas condensing furnaces or appliances with low condensate drains
Built-in full flow check valve for barbed 3/8" ID plastic tubing
6 power cord with molded plug (nema 5-15p or 6-15p)
18 ft maximum lift
Available with auxiliary safety switch
Available with 20 of 3/8 vinyl tubing

Key Features:
ABS Case
Stainless Steel Shaft
Optional Safety Switch
Questions before buying? Ask the expert about this item. Sorry, do not submit repair related questions.

Contact a pump specialist to assist you in finding the right pump or pump part. Our Factory Authorized pump experts can help you find the best solution and the GUARANTEED LOWEST PRICE !
Call 1-800-429-0800
Mon - Fri : 7AM to 4:30 PM
Saturday : 7AM to 1PM Eastern Standard Time

Areas We Serve

New Jersey
New York
Connecticut
Nationwide
Subscribe to our newsletter
Pump Express
190 Main Avenue
Wallington NJ 07057
(800) 429-0800
Copyright ® 2013 Pump Express