Hartell KT-15 Series Pump (801035)
* Overnight Shipping Available!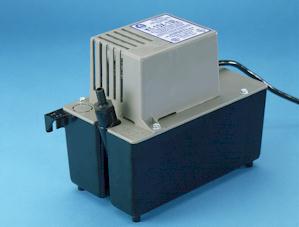 KT-15 Series Pumps
The KT-15 will provide years of trouble free service. A high impact, corrosion resistant ABS plastic reservoir, combined with a stainless steel motor shaft, makes this pump ideal for gas condensing furnace application.
Three-quart plastic reservoir
Thermally protected 115 or 230 VAC 3,000 rpm motor with stainless steel shaft
15 ft maximum lift
Suitable for gas condensing furnace application
Capped inlet: 1 and 1-3/8 Outlet: Barbed for 3/8 ID tubing
Full-flow check valve included
6 foot power cord and molded plug
Available with auxiliary safety switch
Available with 20 of 3/8 vinyl tubing

Key Features:
ABS Case
Stainless Steel Pump Shaft
Available in 115V or 230V
Vinyl Tubing Optional
Questions before buying? Ask the expert about this item. Sorry, do not submit repair related questions.

Contact a pump specialist to assist you in finding the right pump or pump part. Our Factory Authorized pump experts can help you find the best solution and the GUARANTEED LOWEST PRICE !
Call 1-800-429-0800
Mon - Fri : 7AM to 4:30 PM
Saturday : 7AM to 1PM Eastern Standard Time

Areas We Serve

New Jersey
New York
Connecticut
Nationwide
Subscribe to our newsletter
Pump Express
190 Main Avenue
Wallington NJ 07057
(800) 429-0800
Copyright ® 2013 Pump Express