Hartell KT-3 Series Pumps (801217)
* Overnight Shipping Available!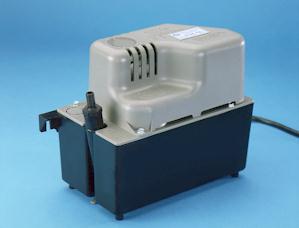 KT3 Series Pumps
The KT3 uses a double splash protected motor with more starting torque than a standard motor. An innovative cam-action switch/float assembly allows a drink nearly twice the standard volume without increasing outside dimensions. An integral, full-flow check valve virtually eliminates blocked pump discharge. The KT3 series pumps now have 3 top inlets adding installation flexibility.
Three-quart plastic reservoir
Thermally protected 115 or 230 VAC 3,000 rpm motor with stainless steel shaft
18.5 ft maximum lift
Suitable for gas condensing furnace application
Inlets: 2 Capped 1-1/8, 1 Open 1-3/8
Outlet: Barbed for 3/8 ID tubing
Factory installed full-flow check valve
6 foot power cord and molded plug
Available with auxiliary safety switch
Available with 20 of 3/8 vinyl tubing

Key Features:
Gas Condensing Furnace
Splash Protected Motor
Integral Check Valve
Questions before buying? Ask the expert about this item. Sorry, do not submit repair related questions.

Contact a pump specialist to assist you in finding the right pump or pump part. Our Factory Authorized pump experts can help you find the best solution and the GUARANTEED LOWEST PRICE !
Call 1-800-429-0800
Mon - Fri : 7AM to 4:30 PM
Saturday : 7AM to 1PM Eastern Standard Time

Areas We Serve

New Jersey
New York
Connecticut
Nationwide
Subscribe to our newsletter
Pump Express
190 Main Avenue
Wallington NJ 07057
(800) 429-0800
Copyright ® 2013 Pump Express