THE NATION'S LEADING PUMP & PARTS SUPPLIER!
Zoeller Smart Pak Plus
* Overnight Shipping Available!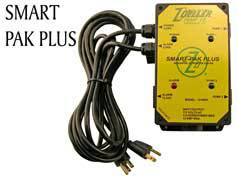 Smart Pak Plus Residential Alternator System
* Allows you to install two automatic pumps up to HP, 115V, 12 amps, single phase and alternate use
* Provides for extended pump life
* NEMA 1 enclosure for indoor use
* Special design allows use in humid areas (i.e. basement)
* True alternator allows each pump to be used equally, not timed
* Second pump will automatically operate if first pump should fail
* Separate power cord and circuit for high-water alarm
* Built in alarm automatically sounds if one of the pumps should fail and calls for the second pump to run during a pump failure
* Alarm sounds and lights up when alarm switch is activated
* Indicator lights tell if the power is on, which pump is operating and alarm status
* Easy installation: Plug automatic pumps into appropriate receptacles on the alternator panel. Install the alarm float provided with the unit and plug in the Smart Pak Plus to a separate power supply. No special wiring required. Plug alarm cord into separate outlet on a different circuit.
* Shipping weight: 5 lbs
* Part Number: 10-0804
Key Features:
Residential Alternator
No Complicated Wiring
Quick Installation
Questions before buying? Ask the expert about this item. Sorry, do not submit repair related questions.

Contact a pump specialist to assist you in finding the right pump or pump part. Our Factory Authorized pump experts can help you find the best solution and the GUARANTEED LOWEST PRICE !
Call 1-800-429-0800
Mon - Fri : 7AM to 4:30 PM
Saturday : 7AM to 1PM Eastern Standard Time

Copyright ® 2013 Pump Express