THE NATION'S LEADING PUMP & PARTS SUPPLIER!
Zoeller Model 910 Sewage Systems
* Overnight Shipping Available!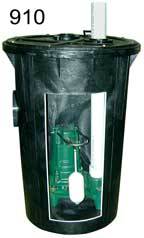 Model 910 Simplex and duplex sewage package systems (unassembled)
* Ideal for homes, farms, trailer courts, motels, restaurants and institutions where drain facilities are below existing sewer lines
* Maximum temperature rated at 130F (54C)
* Options: Zoeller recommends a High Water Alarm for added protection. See FM0732 for available models.
* Indoor sewage applications only, 910-0030 (M264 4/10 HP) or 910-0031 (M267 HP) includes:
o (2) automatic (M264 or M267) model pumps
o (1) 10-0804 Smart Pak Residential Alternator with alarm
o (1) 31-1105 30 x 36 Polyfoam basin with 2 vent/discharge
o (2) 30-0101 Tri-Check Valves
Basins:
Polyethylene structural foam, polyethylene or fiberglass
Check valves:
2 cast iron and 2 PVC full flow design
The packages listed are available in 2 and 3 vertical discharge and vent, 115V or 230V. Consult factory for other combinations and prices. Polyethylene basins recommended for indoor installations only.
Key Features:
Simplex
Duplex
Pre-Packaged
Sewage Handling
Effluent
Works Well For Basement Bathroom
Questions before buying? Ask the expert about this item. Sorry, do not submit repair related questions.

Contact a pump specialist to assist you in finding the right pump or pump part. Our Factory Authorized pump experts can help you find the best solution and the GUARANTEED LOWEST PRICE !
Call 1-800-429-0800
Mon - Fri : 7AM to 4:30 PM
Saturday : 7AM to 1PM Eastern Standard Time

Copyright ® 2013 Pump Express