THE NATION'S LEADING PUMP & PARTS SUPPLIER!
Zoeller Elevator Sump Pump Oil Guard System 940
* Overnight Shipping Available!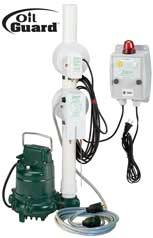 Oil Guard System 940 For submersible dewatering applications
* Designed to help protect the environment and equipment from the dispersion of oils and/or hydrocarbons
* Applications include elevator sumps, transformer vaults and manufacturing facilities
Systems:
* Operation of the Zoeller Oil Guard System has been independently verified by OnSpeX, div. of CSA, when installed in accordance with our instructions
* Choose from four model pumps. Includes pump, Oil Smart switch and alarm (optional control panel)
Oil Smart Switch and Alarm Panel features:
* NEMA-4X alarm panel enclosure
* Audible, light alarms and dry contacts
* Preset on and off points differentiates between oil and water and alerts maintenance personnel of high water or oil detected conditions
* 20 ft. piggyback electrical supply cord
* 20 amp internal relay
* Alarm test and silence switches
* 304 stainless steel probes
* UL508 approved switch
* Alarm panel cCSAus listed

Key Features:
Simplex
Duplex
Control Panel Options
Oil Sensing
Elevator Shafts
Oil Water Seperators
Prevent Oil Spills
Questions before buying? Ask the expert about this item. Sorry, do not submit repair related questions.

Contact a pump specialist to assist you in finding the right pump or pump part. Our Factory Authorized pump experts can help you find the best solution and the GUARANTEED LOWEST PRICE !
Call 1-800-298-4100
Mon - Fri : 7AM to 4:30 PM
Saturday : 7AM to 1PM Eastern Standard Time

Copyright ® 2013 Pump Express