Zoeller Condensate 520, 521 - 115 Volt - 1 Phase
* Overnight Shipping Available!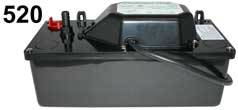 Condensate 520, 521 Multi-purpose Condensate pump.
* Automatically removes condensation from air conditioning and 90+ condensing furnaces as well as dehumidifiers, ice makers, water coolers and refrigeration systems
* Unique bearingless motor means greater reliability and longer life
* Compact design (10" x 5" x 4.75" height)
* 3/8" ID discharge with check valve
* Handles condensate up to 150 F
* 18 ft TDH
* 2 quart ABS plastic reservoir
* Available with safety switch (Model 521)
o Will automatically shut pump down in event of failure
o Can be wired directly to appliance and/or alarm
* UL listed in US and Canada
* 12 month limited warranty

Key Features:
Easy Installation
HVAC Applications
Questions before buying? Ask the expert about this item. Sorry, do not submit repair related questions.

Contact a pump specialist to assist you in finding the right pump or pump part. Our Factory Authorized pump experts can help you find the best solution and the GUARANTEED LOWEST PRICE !
Call 1-800-429-0800
Mon - Fri : 7AM to 4:30 PM
Saturday : 7AM to 1PM Eastern Standard Time

Areas We Serve

New Jersey
New York
Connecticut
Nationwide
Subscribe to our newsletter
Pump Express
190 Main Avenue
Wallington NJ 07057
(800) 429-0800
Copyright ® 2013 Pump Express