Zoeller Shark WD820, WH820 Positive Displacement (820-0005)
* Overnight Shipping Available!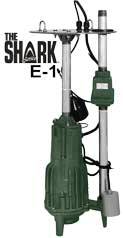 Shark Series WD820, WH820 Positive Displacement Grinders
* Rust resistant steel cover (epoxy coated)
* Automatic grinder pump with integral control
* Upper and lower ball bearings
* Corrosion resistant powder coated epoxy finish
* 1 NPT galvanized piping
* 1 cast iron check valve
* 1 rubber discharge pipe seal
* Grinder control float factory set to match pressure collector system on level
* Adjustable alarm float switch preset at factory
* Maximum operating temperature 130F (54C)

Key Features:
Positive Displacement Grinder
Retrofit To Competitors Models
Single Phase
Pre-Assembled
Compatible With E-1 Systems
Questions before buying? Ask the expert about this item. Sorry, do not submit repair related questions.

Contact a pump specialist to assist you in finding the right pump or pump part. Our Factory Authorized pump experts can help you find the best solution and the GUARANTEED LOWEST PRICE !
Call 1-800-298-4100
Mon - Fri : 7AM to 4:30 PM
Saturday : 7AM to 1PM Eastern Standard Time

Areas We Serve

New Jersey
New York
Connecticut
Nationwide
Subscribe to our newsletter
Pump Express
190 Main Avenue
Wallington NJ 07057
(800) 298-4100
Copyright ® 2013 Pump Express