THE NATION'S LEADING PUMP & PARTS SUPPLIER!
Zoeller Shark Series 840 Reversing Grinder (840-0004)
* Overnight Shipping Available!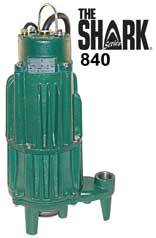 Shark Series 840 Reversing Grinder Pump systems and reversing controls
* Durable heavy duty finned cast iron construction
* Oil-filled, hermetically sealed motor with Class F insulation
* Hardened stainless steel cutter and disc
* Cutters protected from abrasive solids
* Cutters can automatically alternate direction to enhance blade life and free hang-ups (automatic or manually)
* Stainless steel screws, bolts and lifting bail
* Easily adapts to many existing competitors rail systems
* Tandem seals with leak detection
* Automatic thermal overload protection (single phase)
* Thermal sensor protection (standard on 3 Phase)
* Legs provide for free standing installation
* Preassembled systems available
* Corrosion resistant powder coated epoxy finish
Standard Features:
* Reversible cutter action manual/auto**
* 1 1/4" NPT vertical discharge
* Carbon/ceramic tandem seals
* Thermal sensors** (O.L. on 1PH)
* Moisture probes**
* Balanced bronze impellers
* Stainless steel cutter and plate (R-C 55-60)
* Stainless steel shaft
* Stainless steel lifting bail
* Corrosion resistant powder coated epoxy paint
* 20 ft. power cord, 20 ft. sensor cord
* UL listed
* Options:
o Extended cord lengths
o Anti-siphon device

Key Features:
Reversing Grinder Option Helps Prevent Clogging
Thermal & Moisture Sensor Options
Hospitals
Schools
Institutional
Single Phase
Three Phase
Turn-Key Systems
Questions before buying? Ask the expert about this item. Sorry, do not submit repair related questions.

Contact a pump specialist to assist you in finding the right pump or pump part. Our Factory Authorized pump experts can help you find the best solution and the GUARANTEED LOWEST PRICE !
Call 1-800-298-4100
Mon - Fri : 7AM to 4:30 PM
Saturday : 7AM to 1PM Eastern Standard Time

Copyright ® 2013 Pump Express