THE NATION'S LEADING PUMP & PARTS SUPPLIER!
Zoeller Shark Series 820 Uniquely designed pump with integral contro (820-0011)
* Overnight Shipping Available!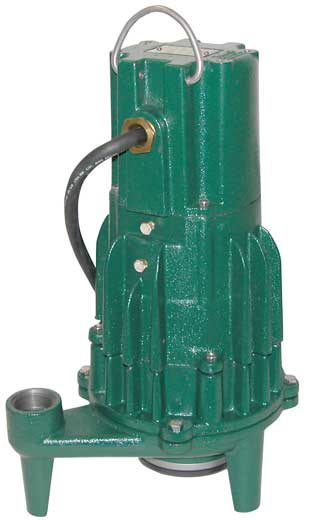 The Shark Series 820 Uniquely designed pump with integral control.
* Automatic model with Integral Control, non-automatic available
* UL listed
* Durable heavy duty finned cast iron construction
* Legs provided for free standing installation
* Oil-filled, hermetically sealed motor with Class B insulation, automatic reset thermal overload protected
* Upper and lower ball bearings running in bath of oil
* Hardened stainless steel cutter and disc
* Cutters protected from abrasive solids
* Stainless steel lifting handle, screws and bolts
* Easily adapts to rail systems
* Mechanical shaft seal - carbon/ceramic
* Control panels not required
* Simplex grinder package systems (unassembled and job ready/assembled) available
* Corrosion resistant powder coated epoxy finish
* Maximum operating temperature 130F (54C)
Standard Features:
* 1 NPT vertical discharge
* Carbon/ceramic seal
* Thermal overload protection
* Balanced bronze impeller
* Stainless steel cutter plate/cutter
* Stainless steel shaft
* Stainless steel hardware
* 20 power cord, extra lengths available

Key Features:
Grinder Pump
Force Mains
Single Phase
Automatic
Non-Automatic
Stand Alone
Control System
Q:
Our pump is 9 yrs. old...has had several parts replaced and it now runs for 3 seconds and trips the breaker. Any suggestions on what may be wrong ? We have a simplex 820 Grinder System P/N 922-0009. Is there a better system to purchases that fits the same?
by
Kristen
from OH on March 14,2013
A:
If the pump is contstantly tripping breaker the pump is most likely clogged. The pump should be removed from the pit and inspected to see if there is debris clogged in the volute. I would recommend having someone who is qualified perform this procedure to avoid injury and/or damage to the system.

Contact a pump specialist to assist you in finding the right pump or pump part. Our Factory Authorized pump experts can help you find the best solution and the GUARANTEED LOWEST PRICE !
Call 1-800-429-0800
Mon - Fri : 7AM to 4:30 PM
Saturday : 7AM to 1PM Eastern Standard Time

Copyright ® 2013 Pump Express