Zoeller Shark Series 932, E810 (810-0004)
* Overnight Shipping Available!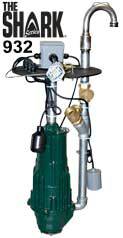 Shark Series 932, E810 Simplex replacement grinder for positive displacement grinders
* Readily adapts to existing progressing cavity grinder pump systems
* Quick disconnect coupling
* Model 810 pump is cCSAus listed
* Finned class 30 cast iron construction
* Corrosion resistant powder coated epoxy finish
* 1 NPT discharge
* Oil-filled, hermetically sealed, automatic reset thermal overload protected motor with Class B windings
* Hardened stainless steel cutter and disc, Rockwell C55-60
* Stainless steel hydraulic pump rotor
* Pressure relief valve
* Check valve
* Anti-siphon device
* Upper and lower ball bearing construction
* Carbon/ceramic mechanical seal
* Pump control and high water alarm switch
* Integral thermal overload protection with automatic reset

Key Features:
Replaces EMU Style Pumps
Grinder
Positive Displacement
Single Phase
Questions before buying? Ask the expert about this item. Sorry, do not submit repair related questions.

Contact a pump specialist to assist you in finding the right pump or pump part. Our Factory Authorized pump experts can help you find the best solution and the GUARANTEED LOWEST PRICE !
Call 1-800-298-4100
Mon - Fri : 7AM to 4:30 PM
Saturday : 7AM to 1PM Eastern Standard Time

Areas We Serve

New Jersey
New York
Connecticut
Nationwide
Subscribe to our newsletter
Pump Express
190 Main Avenue
Wallington NJ 07057
(800) 298-4100
Copyright ® 2013 Pump Express