THE NATION'S LEADING PUMP & PARTS SUPPLIER!
Zoeller 913 - 1/2 HP - 115 Volt Auto Simple XProof System NX161, NX282 (913-0005)
* Overnight Shipping Available!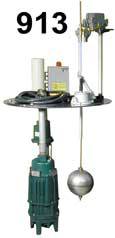 913 Auto Simplex XProof System NX161, NX282 Explosion proof system for submersible effluent and sewage applications
Applications:
* Ideal solution for quick change oil stations or other locations that require explosion proof equipment in the wash down area
* Any public facility
* Elevator pits
* Transportation and utility tunnels
* Hospitals and schools
* Stadiums
* Stores and restaurants
* Service stations
* Hazardous industrial areas
Warning: Not for use in acidic, methanol or ethyl acetate atmospheres
Features:
* FM listed pump for Class I, Division I, Group C or D environments
* Switch - explosion proof for Class I, Group D (NEMA 7) and Class II Groups E, F and G (NEMA 9) installations
* Double pole float switch is rated up to 1 1/2 HP at 110 or 220 Volts AC
* Explosion proof junction box and fittings
* Unit is shipped 99% assembled for easy on the job installation
* High quality brass float
* 1/4" thick 24" diameter epoxy coated steel cover with 8" inspection plate
* Seal leak failure (moisture indicator) in NEMA 4X enclosure
* All fittings are explosion proof rated
* Zoeller cast iron unicheck included on discharge pipe
* Discharge pipe comes assembled thru the cover
* Easily adapted to existing installations
* Recommended for 24" diameter basins
* Basin must be at least 35" deep
* For larger diameter systems, consult factory

Key Features:
Hazardous Location
Compatible with Model 161 & 282 Pumps
Simplex Design
Explosion Proof
Single Phase
Three Phase
Questions before buying? Ask the expert about this item. Sorry, do not submit repair related questions.

Contact a pump specialist to assist you in finding the right pump or pump part. Our Factory Authorized pump experts can help you find the best solution and the GUARANTEED LOWEST PRICE !
Call 1-800-298-4100
Mon - Fri : 7AM to 4:30 PM
Saturday : 7AM to 1PM Eastern Standard Time

Copyright ® 2013 Pump Express