THE NATION'S LEADING PUMP & PARTS SUPPLIER!
Zoeller Waste Mate 264 Submersible Pump (264-0001)
* Overnight Shipping Available!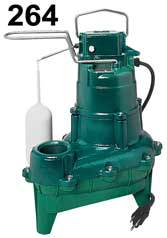 Waste Mate 264: Submersible sewage/effluent or dewatering pump:
* Float operated, submersible (NEMA 6) 2 pole switch
* Durable cast iron construction - switch cap, motor and pump housing
* Engineered plastic base
* Stainless steel screws, bolts, handle, guard, arm and seal assembly
* Corrosion resistant powder coated epoxy finish
* Hermetically sealed, automatic reset thermal overload protection
* Upper and lower sleeve bearings running in bath of oil
* Carbon and ceramic shaft seal
* Passes 2 spherical solids
* 2 NPT discharge
* On point: 12
* Off point: 4
* Simplex and duplex systems available
* Automatic and nonautomatic models available
* Nonautomatic for variable level systems
* BE and BN264 available packaged with piggyback variable level float switch
Special Applications:
* Electrical alternators for duplex systems available with variable level float switches
* Minimum recommended basin size simplex: 18 x 30, duplex: 30 x 36
* Standard automatic .4 HP, 34.5 lbs.
* High water alarms available
* Mechanical alternators available for duplex systems

Key Features:
Sewage
Effluent
Ejector
Waste Water
Q:
What is the weight of the Zoeller Waste Mate 234 Submersible pump and can you ship it to Puerto Rico?
by
dustyroads
from NY on April 01,2013
A:
The Waste Mate 234 model pump weighs 35 lbs. and yes we can UPS this pump overnight to anywhere in the United States, including Puerto Rico.

Contact a pump specialist to assist you in finding the right pump or pump part. Our Factory Authorized pump experts can help you find the best solution and the GUARANTEED LOWEST PRICE !
Call 1-800-429-0800
Mon - Fri : 7AM to 4:30 PM
Saturday : 7AM to 1PM Eastern Standard Time

Copyright ® 2013 Pump Express