THE NATION'S LEADING PUMP & PARTS SUPPLIER!
Zoeller Flow Mate Sump Pump Model 98 (98-0001)
* Overnight Shipping Available!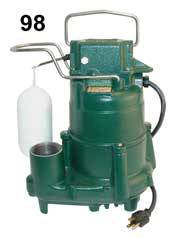 Effluent or dewatering submersible pump for septic tank, low pressure pipe (LPP) and enhanced flow STEP systems.
* Corrosion resistant powder coated epoxy finish
* Durable cast iron construction
* Cast iron switch case, motor, pump housing and base
* No sheet metal parts to rust or corrode
* All castings are cast iron class 25-30 25000# tensile strength
* Stainless steel screws, guard, handle, arm and seal assembly
* Float operated submersible (NEMA 6) 2 pole mechanical switch
* Permanent split capacitor motor, oil filled and hermetically sealed, automatic reset thermal overload protection
* Bearings upper & lower oil fed cast iron
* Carbon and ceramic shaft seal
* Entire unit pressure tested after assembly
* Watertight neoprene squre ring between motor and pump housing
* Maximum temperature for effluent or dewatering 130F (54C)
* Passes spherical solids
* No screens to clog
* 1 NPT discharge (1 x 2 PVC Adapter included with BN & BE Models)
* On point: 9
* Off point: 3
* Major width: 10 1/8"
* Major height: 12
* Simplex and duplex systems available
* Packaged systems available
* Automatic and nonautomatic available
* Available with piggyback variable level float switch

Key Features:
Questions before buying? Ask the expert about this item. Sorry, do not submit repair related questions.

Contact a pump specialist to assist you in finding the right pump or pump part. Our Factory Authorized pump experts can help you find the best solution and the GUARANTEED LOWEST PRICE !
Call 1-800-429-0800
Mon - Fri : 7AM to 4:30 PM
Saturday : 7AM to 1PM Eastern Standard Time

Copyright ® 2013 Pump Express