THE NATION'S LEADING PUMP & PARTS SUPPLIER!
Armstrong 8100 ARMKool HVAC Chilled Water Packages
* Overnight Shipping Available!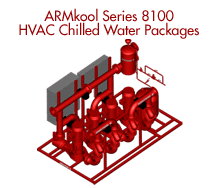 Armstrong ARMkool Series 8100 HVAC Chilled Water Packages include a range of traditional HVAC components that are brought together in a package to:
* Save installation time * Reduce material cost * Improve the quality of assembly * Provide a single source responsibility ARMkool Series 8100 Packages are available for the following applications:
* Constant speed primary, constant speed secondary (CPCS) * Constant speed primary, variable speed secondary (CPVS)
Key Features:
Product Availability: When you need it Today ! - OVERNIGHT SHIPPING AVAILABLE - Pump Express is the Nations PREMIER ARMSTRONG PUMP SUPPLIER. We have Armstrong Series 8100 ARMKool HVAC Chilled Water Packages and parts for sale. For help selecting the right pump and pump replacement parts call our Armstrong Pump Hot Line at 1-800-298-4100
Questions before buying? Ask the expert about this item. Sorry, do not submit repair related questions.

Contact a pump specialist to assist you in finding the right pump or pump part. Our Factory Authorized pump experts can help you find the best solution and the GUARANTEED LOWEST PRICE !
Call 1-800-429-0800
Mon - Fri : 7AM to 4:30 PM
Saturday : 7AM to 1PM Eastern Standard Time

Copyright ® 2013 Pump Express