Armstrong Astro Express Hot Water Circulator
* Overnight Shipping Available!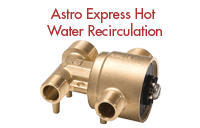 As more municipalities move towards water conservation policies, theres a growing demand for product solutions that save water. The Astro Express Hot Water Recirculation System does just that. An average family wastes over 12,000 gallons of water per year waiting for hot water to arrive at the tap. By recirculating the hot water, the Astro Express system provides instant hot water at the tap, and eliminates the need to waste cold water, waiting for hot water.
The system also provides improved convenience to consumers who have already installed water-saving showerheads and other conservation tools. As beneficial as those tools are to the environment, they cause even longer wait times for hot water, creating a real demand for hot water recirculation solutions.
Key Features:
Water Conservation
New Home Construction
Residential Retro-Fit
Light Commercial
Questions before buying? Ask the expert about this item. Sorry, do not submit repair related questions.

Contact a pump specialist to assist you in finding the right pump or pump part. Our Factory Authorized pump experts can help you find the best solution and the GUARANTEED LOWEST PRICE !
Call 1-800-298-4100
Mon - Fri : 7AM to 4:30 PM
Saturday : 7AM to 1PM Eastern Standard Time

Areas We Serve

New Jersey
New York
Connecticut
Nationwide
Subscribe to our newsletter
Pump Express
190 Main Avenue
Wallington NJ 07057
(800) 298-4100
Copyright ® 2013 Pump Express