THE NATION'S LEADING PUMP & PARTS SUPPLIER!
Armstrong 4302 IVS Design Envelope HVAC Pumps
* Overnight Shipping Available!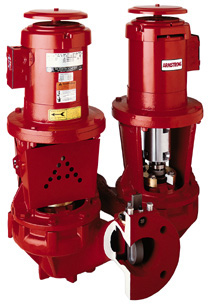 The Armstrong Design Envelope is a pre-set arrangement of the most efficient pump selections for a given capacity range. The Design Envelope approach to system selection allows you to reduce design risk and avoid costs from equipment change orders. By calculating your preliminary design requirements, then selecting a Design Envelope with sufficient comfort zone around the preliminary design point, your pump selection will be future-proofed against possible design omissions or system changes during construction and over the life of the building.
There is no longer a need to oversize your initial design point. The Design Envelope functions as a safety net for any anticipated system changes due to as-built design, building envelope adjustments, tenant demographic changes, or changes in building usage. Specifying an oversized pumping unit typically results in lower efficiency under actual operating conditions. Select the appropriate Design Envelope and be assured that the Armstrong variable speed pumping units will deliver excellent efficiency throughout the entire Design Envelope and the operating range of the unit.
Using the Design Envelope approach, you can select and specify the Design Envelope that suits your current and anticipated needs.
Multiple pumps may be controlled with remote sensors and IPS controller or external signal, such as BAS. Single pumps or duty/standby can be controlled by integrated Sensorless control where there is no system feedback sensor to be sourced, installed or wired. The onboard IVS Sensorless software controls the system as efficiently as a unit with remotely installed sensor control, without the cost or problems of supplying and installing the sensor itself.
Key Features:
Product Availability: OVERNIGHT SHIPPING AVAILABLE ! - PUMP EXPRESS delivers ARMSTRONG PUMPS and ARMSTRONG PUMP PARTS 24 hrs a day, 7 days a week, 365 days a year DIRECT FROM THE ARMSTRONG PUMP MANUFACTURER TO YOUR DOOR.
Questions before buying? Ask the expert about this item. Sorry, do not submit repair related questions.

Contact a pump specialist to assist you in finding the right pump or pump part. Our Factory Authorized pump experts can help you find the best solution and the GUARANTEED LOWEST PRICE !
Call 1-800-298-4100
Mon - Fri : 7AM to 4:30 PM
Saturday : 7AM to 1PM Eastern Standard Time

Copyright ® 2013 Pump Express