THE NATION'S LEADING PUMP & PARTS SUPPLIER!
Armstrong I.W.H. Instantaneous Water Heater
* Overnight Shipping Available!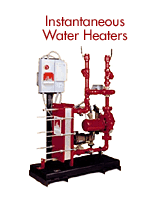 Armstrong Packaged I.W.H.
Units are available in several ranges fulfilling a large variety of application demands. The I.W.H. is ideal for hotels, resorts, hospitals, rental apartment/condo buildings, commercial buildings, schools, institutional facilities (prisons), army barracks, sport arenas, nursing homes, shopping centers, and process applications. Whatever your application, Armstrong has the unit and the necessary expertise to address and satisfy your needs. Armstrong I.W.H packaged systems are designed to provide hot water instantaneously - from zero demand to maximum rated output - without the need for hot water storage tanks. The I.W.H. packaged system, an innovative approach to the supply of hot water, was exhaustively tested and proven. The unit comes completely assembled on a common base-plate. The heat exchanger is a plate type offering fast heat transfer and making it ideally suited for applications with rapidly changing demands. The I.W.H. comes equipped with a motorized 3-way control valve and PID (Proportional plus Integral plus Derivative) temperature controller. The proprietary controller, specifically developed for this application, is a microprocessor based digital technology, that continuously monitors the six temperature probes installed in the system.
Alarm annunciation for high/low temperatures along with the trip indicator for the pumps, are standard features of the control panel. Furthermore, the panel is provided with a serial communication link for optimal compatibility with a Building Automation System.
This is a functional system that will provide a controlled hot water output to satisfy a large range of demands in an efficient manner. The I.W.H. offers several beneficial features including a small footprint, fast response, ease of installation and the reduction of the potential health risk (Legionella bacteria) associated with storage systems. The Armstrong I.W.H. is setting new standards for hot water production.
Key Features:
Energy Efficient
Small Foot Print
Turn Key
No Shortage Of Hot Water
Questions before buying? Ask the expert about this item. Sorry, do not submit repair related questions.

Contact a pump specialist to assist you in finding the right pump or pump part. Our Factory Authorized pump experts can help you find the best solution and the GUARANTEED LOWEST PRICE !
Call 1-800-429-0800
Mon - Fri : 7AM to 4:30 PM
Saturday : 7AM to 1PM Eastern Standard Time

Copyright ® 2013 Pump Express