Armstrong DualPAK BOOSTER PUMP SYSTEM
* Overnight Shipping Available!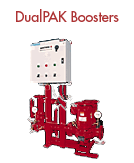 THE DUALPAK 6900 SERIES BOOSTER
1. The DualPak is a space saving system which is ideally suited for retrofit applications, new construction, and projects with minimal available floor space.
2. Designed for popular Mid-Rise construction projects, the DualPak incorporates the model 4382 dualArm in only two sizes of pumps to cover flow ranges from 100 350 GPM, and pressure ranges between 20 and 100 PSI.
3. The DualPak is available in 3 different configurations, offering the flexibility required to meet users needs.
4. The unique design of the dualArm pump incorporates a check valve and individual pump isolation valves. Pump manifolding is eliminated, reducing the overall weight of the system and allowing the DualPak to be suspended from the ceiling, if required.
Key Features:
Product Availability: OVERNIGHT SHIPPING AVAILABLE ! - PUMP EXPRESS delivers ARMSTRONG PUMPS and ARMSTRONG PUMP PARTS 24 hrs a day, 7 days a week, 365 days a year DIRECT FROM THE ARMSTRONG PUMP MANUFACTURER TO YOUR DOOR.
Questions before buying? Ask the expert about this item. Sorry, do not submit repair related questions.

Contact a pump specialist to assist you in finding the right pump or pump part. Our Factory Authorized pump experts can help you find the best solution and the GUARANTEED LOWEST PRICE !
Call 1-800-298-4100
Mon - Fri : 7AM to 4:30 PM
Saturday : 7AM to 1PM Eastern Standard Time

Areas We Serve

New Jersey
New York
Connecticut
Nationwide
Subscribe to our newsletter
Pump Express
190 Main Avenue
Wallington NJ 07057
(800) 298-4100
Copyright ® 2013 Pump Express