THE NATION'S LEADING PUMP & PARTS SUPPLIER!
Armstrong 4360 VERTICAL INLINE PUMPS
* Overnight Shipping Available!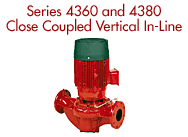 VERTICAL IN-LINE SERIES 4360
Armstrongs economical, lower-range vertical inline pump for HVAC, domestic water systems, and industrial applications requiring a compact pump. Positive sealing assured by proven inside-type mechanical seal. Radially split volute permits removal of the motor and pump rotating assembly without removing the pump volute from the line. Fewer maintenance and servicing problems due to bearing-free pump design. Available in bronze fitted, all bronze, or all iron construction, in a range of sizes.
VERTICAL IN-LINE SERIES 4380
Armstrongs close-coupled vertical in-line pump features economical inside-type, single-spring mechanical seal, serviced by removing the rotating assembly while the pump casing remains in the line. Dynamically balanced impeller assures smooth, vibration-free operation. Radially split volute with equal suction and discharge flange sizes. Separate tapped openings for gauge, flush and drain connections. Available in bronze fitted, all bronze, all iron, and ductile iron construction.
Key Features:
Product Availability: When you need it Today ! - OVERNIGHT SHIPPING AVAILABLE - Pump Express is the Nations PREMIER ARMSTRONG PUMP SUPPLIER. We have Armstrong SERIES 4360 VERTICAL INLINE PUMPS parts for sale. For help selecting the right pump and pump replacement parts call our Armstrong Pump Hot Line at 1-800-298-4100
Questions before buying? Ask the expert about this item. Sorry, do not submit repair related questions.

Contact a pump specialist to assist you in finding the right pump or pump part. Our Factory Authorized pump experts can help you find the best solution and the GUARANTEED LOWEST PRICE !
Call 1-800-298-4100
Mon - Fri : 7AM to 4:30 PM
Saturday : 7AM to 1PM Eastern Standard Time

Copyright ® 2013 Pump Express