Armstrong 4360 Pump-In-A-Box
* Overnight Shipping Available!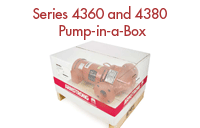 The PiB Series builds on the quality and unsurpassed performance youve come to expect from Armstrong commercial pumps. PiB (Pump-in-a-Box) models are packaged for warehouse distribution and are shipped within 48 hours of the order date. Current PiB models include the 4360, 4380 and 4380 IVS Series Vertical In-Line pumps, available with an extensive selection of impeller and motor combinations, to cover a wide range of head and flow requirements.
Key Features:
Available To Ship In 48 Hours
Pre-Designed Performance Curves
Ability To Ship By UPS Or Truck
Product Availability: OVERNIGHT SHIPPING AVAILABLE ! - PUMP EXPRESS delivers ARMSTRONG PUMPS and ARMSTRONG PUMP PARTS 24 hrs a day, 7 days a week, 365 days a year DIRECT FROM THE ARMSTRONG PUMP MANUFACTURER TO YOUR DOOR.
Q:
Do you Have the Armstrong 4360 Pump In A Box in stock ?
by
Joe Marino
from NJ on February 27,2013
A:
Yes. Pump Express is one of the largest stocking distributors of Armstrong pumps and parts on the East Coast.

Contact a pump specialist to assist you in finding the right pump or pump part. Our Factory Authorized pump experts can help you find the best solution and the GUARANTEED LOWEST PRICE !
Call 1-800-298-4100
Mon - Fri : 7AM to 4:30 PM
Saturday : 7AM to 1PM Eastern Standard Time

Areas We Serve

New Jersey
New York
Connecticut
Nationwide
Subscribe to our newsletter
Pump Express
190 Main Avenue
Wallington NJ 07057
(800) 298-4100
Copyright ® 2013 Pump Express