THE NATION'S LEADING PUMP & PARTS SUPPLIER!
Armstrong 4030 Base Mounted Pumps
* Overnight Shipping Available!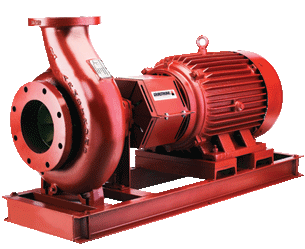 Armstrong offers a comprehensive range of based mounted pumps designed for a wide variety of applications. These base mounted pumps are single stage, end suction, radially-split centrifugal pumps units featuring a self-venting casing to prevent air binding. Armstrong base mounted pumps also include heavy duty bearings that are sealed and lubricated for life, a "back pull-out" bearing frame for easy removal, and a self-lubricating mechanical seal to prevent liquid seepage. Base mounted pumps are available in bronze fitted, all bronze and all iron construction.
Traditional Base Mounted Pump Features:
Back pull-out design One piece baseplate Base supported radially-split casing Flexible coupling with guard Drain and gauge connections Cast iron housing, bronze-fitted construction
Value-Added Base Mounted Pump Features
ANSI style centerline discharge casing ANSI flanged casing Pre-lubricated and sealed ball bearings Confined casing gasket Mechanical seal with O-ring mounted silicone carbide seat Stainless steel shaft sleeve Dynamically balanced impellers OSHA coupling guard Baseplate designed to ANSI/HI 1.3.5 rigidity standards for freestanding base.
Key Features:
HVAC
Domestic Water
Cast Iron Construction
Bronze Fitted
Product Availability: OVERNIGHT SHIPPING AVAILABLE ! - PUMP EXPRESS delivers ARMSTRONG PUMPS and ARMSTRONG PUMP PARTS 24 hrs a day, 7 days a week, 365 days a year DIRECT FROM THE ARMSTRONG PUMP MANUFACTURER TO YOUR DOOR.
Q:
I need to install two Armstrong 4030 pumps, but I'm tight for space. Any suggestions ?
by
Nick The Plumber
from NJ on February 27,2013
A:
The Armstrong dualArm Vertical In-Line is a space saver in that it incorporates two
pumps in a casing with a single inlet and
outlet connection. It also enables standby or
parallel operation with only one set of
piping. The casing design and port valves
allow one pump to be removed for service
while the second pump is still operating.
When it is installed with a Suction Guide and a
Flo-Trex valve the dualArm represents the
greatest Life Cycle Value in today's
commercial HVAC market.
Q:
I would like to know if the Armstrong 4030 comes pre-assembled from the factory ?
by
jim b
from NJ on February 27,2013
A:
No ! Pump Express will assemble it and send it out as a packaged unit.

Contact a pump specialist to assist you in finding the right pump or pump part. Our Factory Authorized pump experts can help you find the best solution and the GUARANTEED LOWEST PRICE !
Call 1-800-298-4100
Mon - Fri : 7AM to 4:30 PM
Saturday : 7AM to 1PM Eastern Standard Time

Copyright ® 2013 Pump Express