THE NATION'S LEADING PUMP & PARTS SUPPLIER!
Armstrong 4302 Vertical In-Line dual Arm Pumps
* Overnight Shipping Available!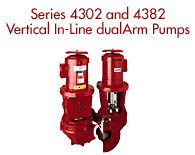 Series 4302 and 4382 Vertical In-Line dualArm Pump
Armstrongs new dualArm vertical in-line pumps incorporate two Series 4300 or 4380 pumps in a single casing.
Series 4302 is designed with split spacer type couplings, so that the mechanical seals may be serviced without disturbing the pump or motor connections, and is available with outside balanced or inside seals.
Series 4382 is the economical close coupled design. Each type is supplied with a swing discharge port to hydraulically separate the casings to prevent recirculation when only one pump operates. Isolation valves enable one pump to be isolated for service or removal with the second pump still operating.
Key Features:
Vertical In-Line
Single or Three Phase
Choice Of HP
Bronze Fitted
Product Availability: When you need it Today ! - OVERNIGHT SHIPPING AVAILABLE - Pump Express is the Nations PREMIER ARMSTRONG PUMP SUPPLIER. We have Armstrong Series 4302 Vertical In-Line dual Arm Pumps and parts for sale. For help selecting the right pump and pump replacement parts call our Armstrong Pump Hot Line at 1-800-298-4100
Questions before buying? Ask the expert about this item. Sorry, do not submit repair related questions.

Contact a pump specialist to assist you in finding the right pump or pump part. Our Factory Authorized pump experts can help you find the best solution and the GUARANTEED LOWEST PRICE !
Call 1-800-298-4100
Mon - Fri : 7AM to 4:30 PM
Saturday : 7AM to 1PM Eastern Standard Time

Copyright ® 2013 Pump Express