THE NATION'S LEADING PUMP & PARTS SUPPLIER!
Armstrong 4300 Split Coupled In Line Pumps
* Overnight Shipping Available!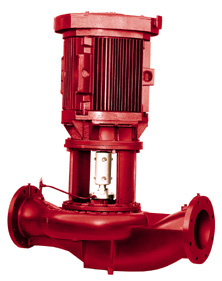 Series 4300 Split
Armstrongs vertical in-line pump represents a design innovation that has repeatedly proven its value over the past 30 years. Armstrong took a leadership role in improving the efficiency and utility of commercial pumps by designing and marketing the vertical in-line pump in the early 1970s. Armstrong takes a leading role in educating engineers around the world on the value of vertical in-line pump installations, and offers one of the widest range of vertical in-line pump sizes in the industry.
The Armstrong 4300 split coupled vertical in-line pump includes both a silicon carbide seal and an outside balanced seal as standard items. Armstrong vertical in-line pumps combine excellent operating efficiency, with very low vibration and noise.
Key Features:
Industry Standard Motor Designed For Vertical In-Line Operation
Various Motor Sizes
Heavy Duty Construction
Product Availability: When you need it Today ! - OVERNIGHT SHIPPING AVAILABLE - Pump Express is the Nations PREMIER ARMSTRONG PUMP SUPPLIER. We have Armstrong Series 4300 Split Coupled In Line Pumps and parts for sale. For help selecting the right pump and pump replacement parts call our Armstrong Pump Hot Line at 1-800-298-4100
Questions before buying? Ask the expert about this item. Sorry, do not submit repair related questions.

Contact a pump specialist to assist you in finding the right pump or pump part. Our Factory Authorized pump experts can help you find the best solution and the GUARANTEED LOWEST PRICE !
Call 1-800-429-0800
Mon - Fri : 7AM to 4:30 PM
Saturday : 7AM to 1PM Eastern Standard Time

Copyright ® 2013 Pump Express