THE NATION'S LEADING PUMP & PARTS SUPPLIER!
"Offering sales & technical support for the worlds leading manufacturers of pumps and equipment"
Liberty Pumps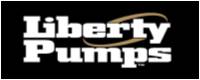 PUMP BRANDS FOR SALE
Liberty Pumps for Sale:
Liberty Pumps is a leading manufacturer of pumping products for ground water and wastewater removal in residential and commercial applications. Liberty pumps are available in a wide range of pump styles including sump pumps, sewage pumps, effluent pumps, drain pumps, grinder pumps, complete pre-assembled sewage packages and pump accessories. Liberty Pumps are characterized by innovative design and quality manufacture. Pump Express is a leading nationwide Liberty pump distributor. We offer the lowest prices on our Liberty pumps and Liberty pump parts for sale.

Areas We Serve

New Jersey
New York
Connecticut
Nationwide
Subscribe to our newsletter
Pump Express
190 Main Avenue
Wallington NJ 07057
(800) 298-4100
Copyright ® 2013 Pump Express